Summertime, days at the pool, wintertime excursions to warm beaches- all of these sound like fun. What isn't fun is the dread that comes every day as you think about all the time it will take to shave away your unwanted hair. Save your time for doing fun things, for doing actual fun things. Don't waste it on constant shaving or a lifetime's worth of waxing appointments. Health & Vitality offers state of the art technology that will give you permanent hair reduction. Yes, you read that right. It's permanent. At Health & Vitality, we use an Inmode product called DiolazeXL to leave you with soft, silky skin permanently. You can say goodbye to the red bumps, ingrown hairs, and other discomforts caused by razors.
Call now or use the book now button to schedule your consultation for laser hair removal with Dr. Johnston at Health & Vitality.
Popular Treatment Areas
For Women
Bikini

Legs

Underarms

Stomach

Neck

Face
​
For Men
Chest

Back

Back of neck

Face

Between the eyebrows
Frequently Asked Questions
What is DiolazeXL?
---
DiolazeXL is an advanced laser hair removal procedure that safely and gently eliminates unwanted hair. DiolazeXL has one of the largest treatment spot sizes, making treatments convenient and fast. The combination of efficacy, patient comfort and speed makes DiolazeXL a leader in laser hair removal. It is powerful enough to target and treat even the most stubborn hair.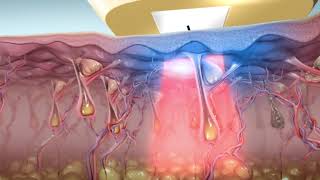 ---
How does DiolazeXL work?
---
During laser treatment, a diode laser beam passes through the skin towards hair follicles. The penetrating energy then heats up the root of the hair, which in turn prevents future hair growth.
---
What areas can be treated?
---
DiolazeXL can be safely used on most areas of the body that have unwanted hair. Most commonly treated areas include bikini, legs, arms, chest, back, shoulders, stomach, neck, chin and sideburns.
---
Does it hurt?
---
DiolazeXL has built in skin cooling surface which is one of the largest for all hair removal devices. This makes treatment more comfortable than other devices, with most patients noting that DiolazeXL is virtually painless.
---
Why do I need multiple treatments to achieve hair removal?
---
As with all laser hair removal methods, DiolazeXL requieres a series of treatments. Laser hair removal works best when hair follicles are in their mature stage; however, at any given time your hair is in various stages of growth. For this reason multiple treatments are needed, to get the hair in each stage of its growth.
---
How may sessions are required?
---
Usually 4-6 sessions. Hair is reduced with each treatment and results are observed after four to six sessions. The number of sessions will differ depending on your hair color, hair type, body area, and skin tone.
---
How is DiolazeXL laser hair removal different than others currently on the market?
---
Many people ask why laser hair removal with the DiolazeXL machine here at Health and Vitality is different than getting it done at any other place. While other laser hair removal on the market can get rid of 70-90% of hair in 10-12 treatments, Diolaze can get rid of 70-90% of hair in just 6 treatments. This means that your laser hair removal process could be finished by 9 months instead of by more than 18. You can get rid of your troublesome hair in half the time it would take in any other place.
---
I've never heard much about laser hair removal for men. What are the benefits?
---
The most obvious benefit is the same whether you are a man or a woman—you'll never have to waste your time shaving again. After shaving, many men suffer from ingrown hairs on the face, neck, and groin and razor burn. Laser hair removal will mean that a man can give a final goodbye to these painful results of shaving. Another lesser known benefit has to do with the decrease of hair on the body. When the hair is permanently reduced or removed, a man will sweat less, feel less hot, and smell better.
---
How long will each session take?
---
The length of your appointment will depend on what area(s) are being treated for hair growth. Small areas like the lip may take under a minute to treat, whereas the legs will take about an hour. An estimate of time will be given when you schedule your appointment.
---
---
DiolazeXL- Laser Hair Removal
DiolazeXL is a simple, effective solution to remove any area of bothersome hair!
Or send us any questions with a text at 385-429-3365 and let us help you set up your appointment.